With the changes in trends of technology we have moved along quickly with our work, like bulk emailing, bulk posts etc in one go with effective software's available. You can use HootSuite bulk scheduling to craft and share messages and activity using your current content. Make sure, of course, that the article information is still valid and appropriate. Hootsuite is a marketing tool to help you with all your social media strategies.
Steps and Uses of Bulk scheduling at hoot suite:
Have you been feeling like this trying forever to get the Hootsuite Bulk Scheduler to actually save you time and work properly with Excel formatting? After hours of fiddling around to get the Bulk Scheduler to work "easy" as they promised I finally accidently found the solution. Couldn't figure it out because it wasn't logical, Still isn't but it works like a charm every time. Once you figure this out the Bulk Scheduler works easy! If you get error messages when you upload your excel to the scheduler and then you fix them and reload…go to your Twitter, Facebook and Linked In and whatever others you are going to be hooting to and double check that the posts are not double or tripled entered. It says the posts won't be posted "until errors are fixed" BUT they DO get posted somehow.
Here are the steps:
1. Down load the sample .csv file from HootSuite Bulk Scheduler.

2. Create your bulk message list based on their template.

3. Before you save your list- Put cursor on the "A" column to highlight your "A" column (which should be the column the date and time are in)
4. Right click – choose "Format Cells"
5. Choose "Custom"
6. Scroll down through choices until you get to the one that looks like this: "m/d/yyyy h: mm" Choose this one.
Now open your HOOTSUITE Bulk Scheduler Option
You will see the choice to "Browse" to "Select File" – do that.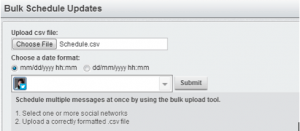 Right next to that choice There is a drop-down menu that you can choose from so you can upload your excel file to Twitter, Linked In, Facebook or whatever social networks you have added to Hootsuite. Choose one. Click "Submit" and you should be good to go.

With the help these easy to work with software's have made it easier to products good results in no time. Try hoot-suite bulk scheduler to work better and faster!